From the developers desk this week.
Friday, November 24, 2006
Thanksgiving week has never been known as a "productive" week... However, our team was working like crazy before the
Tryptophan
kicked in and everyone slipped into a Thanksgiving Day food coma.
New Feature Added - Audio Only Streaming
Several of you have been asking about audio only streaming. We now fully support audio only streaming using two different methods. The first method requires no real work on your part. Simply create a console and set the console type to "Single Audio Stream". Select the stream by title as before. When you send someone to the new console, it will separate the audio from the video, and only send the video to them.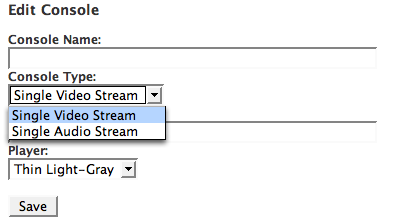 We have also added full indexing support for flv files with no video track. Encode your audio-only track with your favorite FLV encoder and upload it. (Our favorite is
MediaCoder
.) The indexing system will detect your track is audio only and act appropriately.
As you have come to expect with Light Cast MediaSTREAM, streamLOCK is available. You can see what part of the file someone is listening to on the live viewers screen and the server sends the stream based on timecode, saving bandwidth.
Enjoy!
Labels: Development
posted by Light Cast Media @ 8:02 PM,
Search LCM Blog
Site Feed

Subscribe via Email
Links
Previous Posts